The Sherco Australia Enduro team had a good lead-up to this years A4DE with a solid 2 days of competition at the S.A rounds of the AORC  a fortnight prior.  The team bikes then headed off on the 3200klm road trip to Harvey in W.A.  where the Sherco pit area was setup & roped down securely to withstand the mini tornado that ripped through Harvey the day before all the action began.
The prologue to sort starting order was a short fast run through the slippery Harvey countryside & saw Dylan Rees flying with an 11th outright. Tim Coleman & Sam Rummery kept things upright in the super slippery going to finish 37th & 47th respectively while Teneil VanDoorn came through the trying conditions about midpack, happy to be in front of over a further 100 competitors.
Day 1 got under way with nerves allround & soon the Harvey soil was being roosted in every direction as the riders blasted their way through the trail times & special tests. The torrential downpour from the previous few days left some large water sections & unfortunately Teneil fell victim to one of these bogs & fried a clutch trying to get through. Tim (E1) & Sam (E2) were riding close together & were travelling well on the trails & coming to grips with the fast special tests, while Dylan (E2)  was enjoying the pace & getting the job done on day 1 knowing there was still 3 days to go.  Day 1 finished with Tim sitting in 14th position in E1, Dylan in 7th position E2 & Sam 19th position in E2.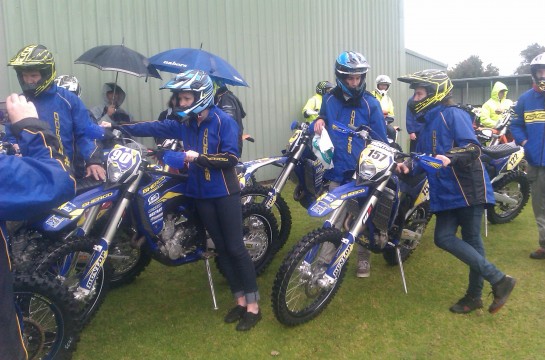 Day 2 & 3 brought more of the same fast sandy trails & loamy special tests. Teneil VanDoorn  took the disappointment of the previous day on the chin & continued to cheer on her team mates. Tim Coleman moved up a spot to 13th outright in E1 on day 2 before taking a wrong turn on day3 & losing some valuable trail time. Dylan & Sam in E2 rode consistently with Dylan maintaining his top 10 position & Sam hovering around the top 20. The trail times were getting tighter & the speeds were picking up as the riders tired so a few close calls were talked about but the guys were all still in 1 piece & looking forward to the final moto on day 4 to finish off a tough week.
The last day arrived & the 3 Trials riders all fronted up to the parc ferme for a fast & furious final trail test & Moto at the Harvey commonage. All 3 riders kept it upright to finish a fantastic week & the final results saw Tim Coleman 18th outright in E1, Sam Rummery 20th in E2 & Dylan Rees consolidating a top ten position finishing in 8th Outright in E2.
The team would like to thank all our sponsors & supporters including Sherco Factory, KENNY Clothing, Dunlop, Belray, Bell helmets, SBS brake pads, Ballards OffRoad,Regina Chains and Renthal products.